Home Lighting
In house lighting, spotlights & security lights
We provide full turnkey solutions for in-house lighting. Our staff of electricians can install a wide range of interior and exterior lighting. We work exclusively with your builder, interior designer or your architect to install lighting that fits the form and function of your property while modernising your lighting systems.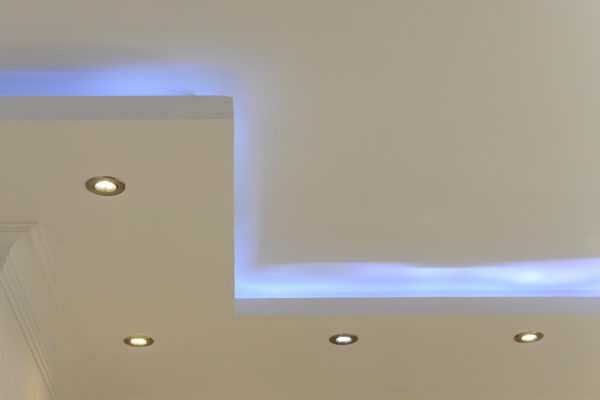 We can assist with the installation of everything from PIR security lights to full LED spotlights throughout your property. We want to ensure that you can illuminate almost any area of your grounds. With support for everything from pathway lighting to overhead light fixtures for your kitchen, we can help you access the best in energy-efficient lighting solutions.
Modernising your home with LED lighting can be an excellent way that you can reduce your energy bills. Modern LED lighting also comes with the option for smart lighting support. With the installation of smart lighting systems, you could control all of your in-house lighting from your phone or tablet. We can install smart lighting systems throughout businesses to help save on energy throughout the year as well. With the latest in energy saving solutions and custom touches for your home or business, we can help you to properly control the look of your property with modern lighting solutions.
LED spotlights and security lights
Control in house lighting with your phone or tablet
Working alongside your architect, interior designer and builder or providing a full turn key solution in house
New security lighting could help to bolster CCTV support as well as improve security across your grounds. Whether your business could use an automatic security light, or your home could do with some improvements to entrance way lighting, we want to ensure that you can access the lighting support you need when it is required.
New LED lighting could help you to access more natural light in your space. We want you to modernise your home or business with the latest in security lighting and smart lighting support.
Contact our staff today and we can design new lighting systems for your property.
Lighting services in :